A couple weekends ago, we decided to get off the concrete and reserved two nights at the Chattahoochee Bend State Park in Georgia. It was time to just wander in nature.
They have a number of nice, easy trails and we took advantage of the time among the trees.
Since the hiking wasn't strenuous, there was plenty of time for meandering. Pondering. Wandering.
Without a real destination, it's lovely to wander and just see what catches your eye.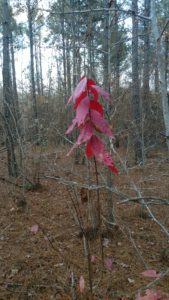 At one point, I spotted some brilliant red leaves among the dormant browns and muted greens.
A few mushrooms hung out.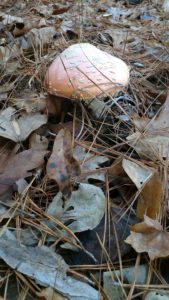 And there were many heart-shaped leaves scattered alongside the trail.
I didn't care about the genus or species of the plants.
I just enjoyed seeing them.
When I found some bones, I didn't wonder too hard what kind of animal they came from. I just enjoyed inspecting them.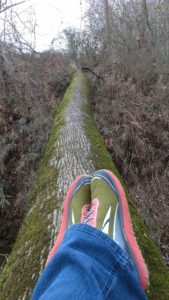 And when I found a log to sit and meditate on, I made lovely use of it.
All this is to simply encourage you to find time to go wander. Whether you do it in your backyard or a park…it doesn't matter.
Your brain and nervous system will thank you. Wandering in nature stabilizes your hormones and improves your breathing. In fact, the trees emit essential oils that you breathe in that help boost your immunity.
And, while all that science stuff is great (it really IS), just the activity of wandering is good for your Soul.
See you on the trails?